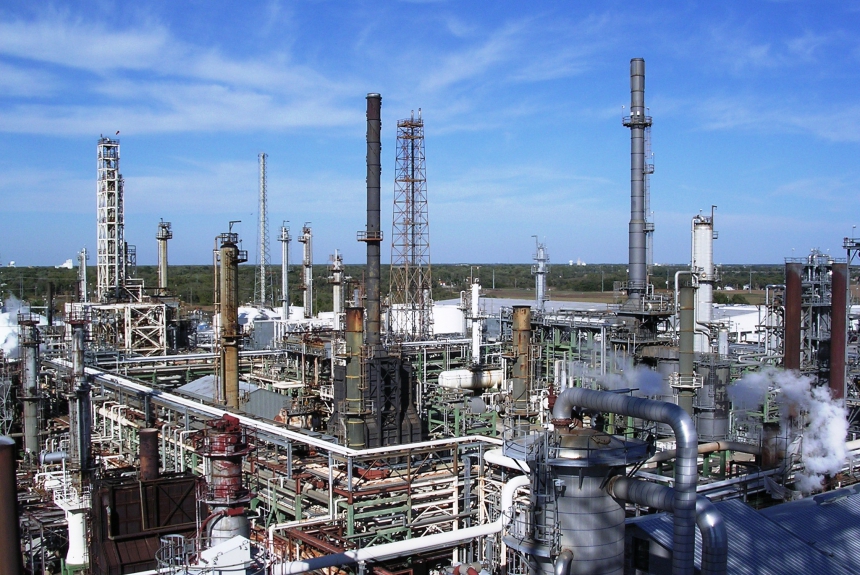 How to implement knowledge management in asset management (AM)
In their ambition to create value with their assets, Asset Owners often struggle with managing their critical knowledge. In times of an ageing workforce, (technical) personnel shortage and a fast changing environment this issue is moving more and more towards the strategic Asset Management agenda.
Alike the management of assets the management of knowledge also is a valuable profession. Best practices of Knowledge Management are helpful to define an effective knowledge management strategy: define which knowledge is critical, capture critical knowledge,  apply this knowledge in practice and incorporate lessons learned in the Asset Owner's common knowledge.
As a provider of Asset Management services Knowledge Management (KM) is essential for Stork Asset Management Technology to secure:
Controlled quality of the delivery of services to the client
Efficiency: get it right the first time, avoid reinventing the wheel
One uniform way of working: the stamp of approval
Providing latest insights on Asset Management
Effective training of existing personnel
Efficient on-boarding of new personnel
Job satisfaction and potential development
To realize these goals we aim to make knowledge accessible that is critical for the services that we provide. This includes both explicit knowledge (formal, codified knowledge) and tacit knowledge (expertise that a person has but that is difficult to codify). In practice, we talk about knowledge bases and knowledge experts.
The re-use of knowledge is an essential process within KM. At the beginning of each project, we examine to what extent existing knowledge and expertise are sufficient to meet requirements. In this manner, we maximize the use of our existing knowledge and avoid reinventing the wheel. The process is then completed by taking the lessons learned from project evaluations and using these to improve knowledge constantly.
In order to make a step-change in KM operations, we invested significant effort in developing a framework for effective knowledge flow. See figure below.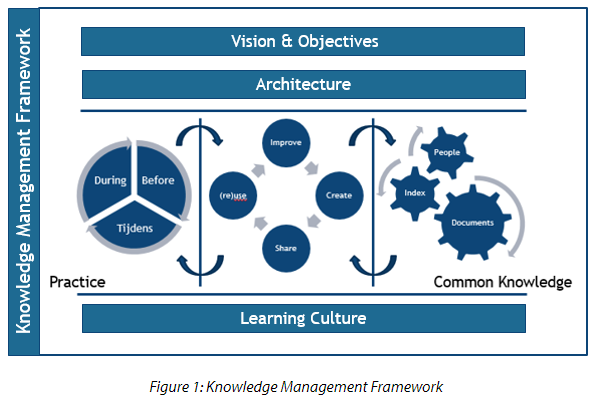 Our way of working can easily be applied to realize Asset Owner's objective to secure, exchange, broaden and deepen the knowledge on its assets. KM can play a major role, for instance, to mitigate the risk of a shortage of highly skilled workers in this field or to avoid losing track of new developments in management of the specific assets (e.g. smart industries and climate change adaption) resulting in a performance lagging behind on the market.
For implementation of a KM framework the following activities should be performed:
Set up a knowledge strategy, including scope and critical knowledge area's
Define KM objectives and KPI's
Ensure required KM enablers are in place:

Roles -people with accountability-
Processes - clearly documented work processes-
Technology and tools to support
Governance

Ensure that interfaces between owner/manager and contractor are clearly defined
Set up and run project KM operations
Evaluate performance of KM operations based on KPI's and metrics
Continuously improve performance of KM operations based on evaluation of results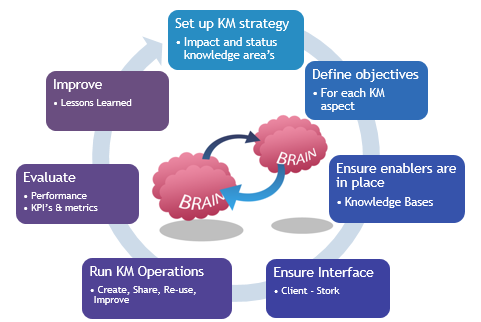 For "KM Operations" typical activities are:
Create: capture critical knowledge (e.g. best practices)
Share: announcements, blogs, knowledge base
Re-use: Subject Matter Expert (SME) support e.g. training on the job
Improve: project evaluation, lessons learned
When implementing KM many organizations fall into the trap of focusing on tools and technologies with the expectation that these will be adopted quickly and without hurdles and resistance. Although tools will likely be required, there is a risk of lack in adoption if the needs of the employees and projects are not correctly identified and considered in advance. Therefor focus should be:
On the future: expected shortage of tacit knowledge
On complexity: which knowledge is hard to make explicit?
On the present: on learning instead of knowledge capturing
On the preconditions for KM operations: shared commitment, connecting people, trust
In this, it is widely agreed that continuity and consistency of senior level KM sponsorship is essential for the success in any KM effort.
We believe that implementing KM in line with the guidance above will:
Enhance the corporate memory and improve its access and recall of corporate know-how
Enable better knowledge retention and its exchange with others
Increase the effectiveness and speed of new hire on-boarding
Maximise learning from positive and negative project experiences
Maximise sharing of HSE knowledge and reduce risk to operations and personnel
Reduce rework and enable client project teams to make better decisions
Make scarce expertise more available
These benefits all contribute towards the realization of the defined Asset Management objectives in terms of performance, costs and risk management. Knowledge Management, implemented properly, is an important enabler for good Asset Management, creating extra value for asset owners in a fast-changing business environment.
Source: STORK Asset Management