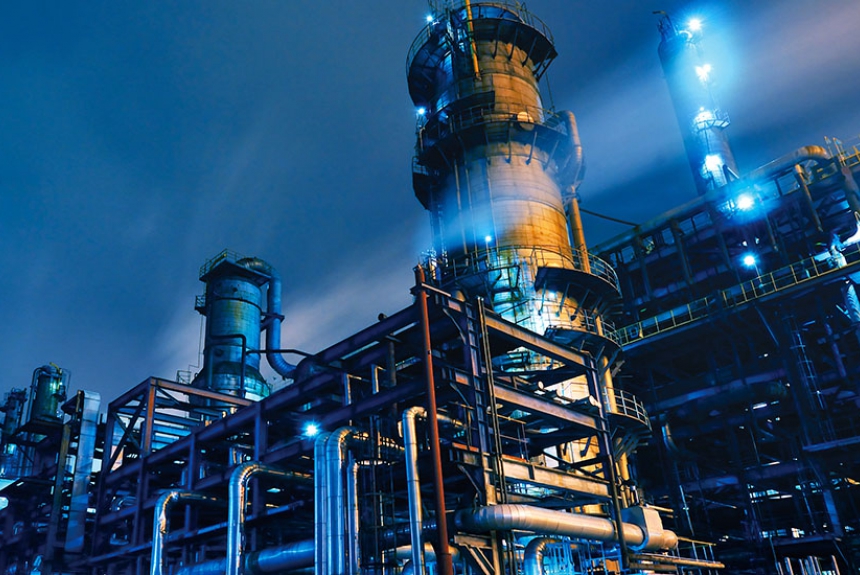 Earth is our most important asset!
When it comes to climate change, this is the decade of truth. Without taking additional measures, temperatures on earth will rise exponentially. The expectation is that global energy use will increase by 20 to 25% in the next 15 years as a result of population growth and economic development. Industries are under pressure to improve their energy efficiency, to use more sustainable energy sources and to reduce emissions. Carbon pricing is based on the principle that the polluters themselves are the ones who pay, and it is an integral part of (inter)national mitigation strategies.
In order to decrease reliance on fossil fuels, efforts are also being made to further develop renewable energy generated from wind, geothermal heat, the sun and water. By 2025, it is expected that onshore wind and solar energy will be the cheapest forms of energy, and that fossil fuel use will have already peaked.
WHAT IS THE PROBLEM?
From an asset management perspective, we can argue that the earth is our most important asset and should therefore be carefully managed. Climate change is one of the major threats to earth. Rising global temperatures are a given, and the consequences if we fail to take action are great. Without any mitigating measures, the risks of climate change cannot be managed. From an asset management perspective, this can be described as a "major non-conformity". Good stewardship is expected of asset managers, and the task at hand is taking good care of the earth.
WHAT IS THE GOAL?
European goals for 2020 and 2030 have been formulated based upon the Kyoto Protocol. The so-called 20-20-20 target - 20% less CO2, 20% less electricity and 20% more sustainable energy in 2020 - will be extended to 2030. By then, 40% less CO2, 27% less electricity and 27% more sustainable energy should be used in comparison to the base year 1990. Within the European Union, this strategy is focused on i) energy efficiency, ii) developing renewable energy and iii) capture and storage of CO2.
The Dutch ambitions have been set out in the Energy Agreement for sustainable growth signed by 40 organizations. The agreement's goal is to generate 14% renewable electricity by 2020 and 16% by 2023. Another goal is to realize 1.5% annual energy savings.
The current Dutch efforts focused on sustainable energy use by 2020 appear to be too low to achieve the goal of 14%. Accelerating the energy transition is crucial on multiple fronts in order to be able to meet these energy goals.
COALITION AGREEMENT DUTCH GOVERNMENT
Given that natural gas extraction operations in Groningen continue to be scaled back, the Netherlands is growing less dependent on this resource. Our energy landscape will continue to change, and the amount of electricity provided by sustainable sources will keep growing. Reduced fossil fuel use will increase the risk of stranded assets, such as coal-fired power plants, oil platforms and gas fields.
For the first time ever, the new Dutch government coalition agreement includes a section dedicated to sustainability. The goal for the year 2030 is a 49% decrease in carbon emissions, which is in keeping with the aim to reduce emissions by 95% in 2050.
According to an analysis by the Netherlands Environmental Assessment Agency, roughly half of that can be achieved through measures pertaining to agriculture, the electricity sector, industry, the built environment, and transportation and mobility. In order to meet the goal of a 49% reduction by 2030, additional measures will need to be incorporated into a new climate and energy agreement.
HOW MATURE IS YOUR ENERGY MANAGEMENT?
We regularly encounter organizations out in the field who say that energy and carbon emissions are (still) not on their agenda. The most important explanation for that is that energy has a limited impact on the company's results. That is a different story for some energy-intensive industries that systematically and structurally work to reduce their energy use and footprint. In order to make the transition from reactive to proactive, a number of development steps need to be taken. As the saying goes, "knowledge is power", introducing energy monitoring is a necessary first step. Having an overview of your organization's own energy use helps in defining the energy projects that will help to realize the stated ambitions.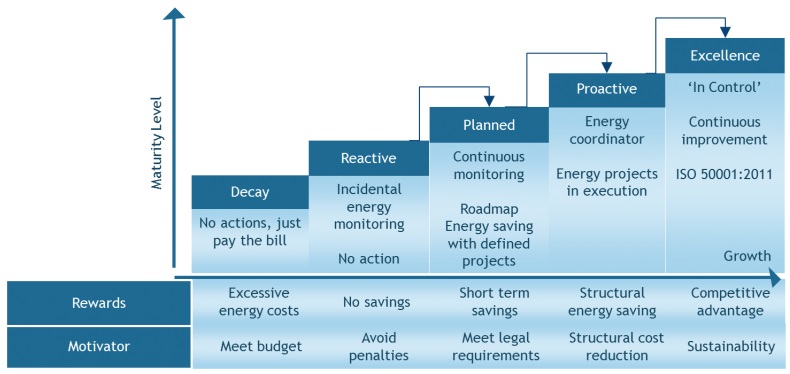 CHALLENGES FOR ASSET OWNERS AND MANAGERS
According to article 8 of the European Energy Directive (EED), large companies must either implement an energy management system (following guidelines from ISO 50001:2011, for example) or carry out energy audits that are valid for four years at most (in keeping with EN 16247 or ISO 50002: 2014). Small and medium-sized enterprises (SME) are also encouraged to do energy audits.
The ISO 50001 standard for energy management systems (EnMS) supports organizations in creating standardized and process-oriented energy management with the objective of saving energy and reducing greenhouse gas emissions. An energy audit in line with ISO 50002 or EN 16247-1: 2012 can also be a powerful tool to reveal your company's current energy performance and to identify the places where potential for more energy savings lie.
HOW CAN YOU IMPROVE?
The goal of an energy management system is to achieve energy savings and a systematic reduction in carbon emissions. An energy management system audit can provide a clearer view of the current processes and create room for improvement in your energy performance.
An audit can quantify how much energy is lost in the production process. It creates possibilities for energy savings and creates room to improve your energy efficiency by using residual energy and introducing renewable energy sources and energy storage.
All of this leaves us with one simple question: how will you be a good steward of the earth, our most valuable asset?
Source: STORK Asset Management